Inform young professionals about the new App
.
product
Custom MailChimp template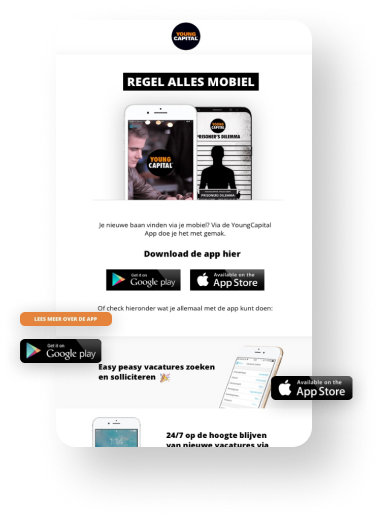 Project description
.
Employment agency Young Capital offers vacancies for students, starters and young professionals. Part-time, full-time, side jobs and holiday work. Via MailChimp they regularly send out email campaigns to inform people about their services and products. They were busy setting up transactional emails to promote their mobile app, a custom email template had to be developed that could also be used for other purposes. Due to the busy schedule of their developers, this was outsourced and they ended up with me through a freelancer platform. Commissioned by Young Capital, I was allowed to design, develop and implement a complete email template from scratch into MailChimp.
With Sketch I designed different designs in the brand style guide of Young Capital with components that can be used for various campaigns. We then coordinated the design in Invision with a few feedback points and created some new revisions. Thanks to the MJML framework, I was able to develop the templates via an established workflow, convert them to code and compile them to HTML / CSS code with good support for older email clients. The templates were then tested in a disciplined manner by testing them on the most popular clients and devices via Litmus and then divided into blocks and converted according to MailChimp guidelines. The template has been developed in such a way that it is easy to edit with the MailChimp visual editor to create unique campaigns.