Inform about online scheduling + time tracking by e-mail
.
product
Transactional e-mail templates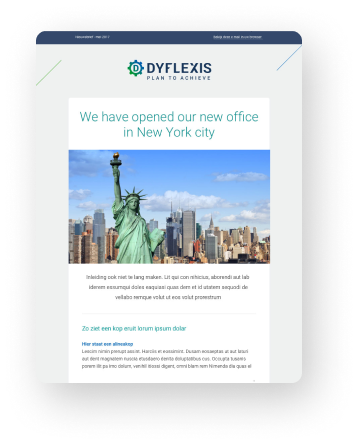 Project description
.
The Dyflexis online scheduling and time tracking software helps you to deploy staff more efficiently and create schedules and track working hours. Dyflexis is developed by a team of over 60 professionals and is used by thousands of companies of all shapes and sizes. During my time at Web Whales I was allowed to help with the development of Dyflexis. We previously been picked to develop the website for Dyflexis. Dyflexis was frequently involved in email marketing and sending transactional emails. They were keen to let their brand identity flow through a custom email template that we were chosen to build and that they could then use for multiple purposes. The design was done by Dyflexis and I was given the responsibility to convert the design into a template and implement it in Salesforce.
Thanks to the MJML framework, I was able to accurately convert the design from Illustrator and develop the templates via an established workflow, convert them to code and compile them to HTML / CSS code with good support for older email clients. The templates have then been tested on the most popular clients and devices. The templates are developed in such manner that it can easily be implemented into Salesforce.