The best coffee for the office
.
product
Custom WordPress site with products module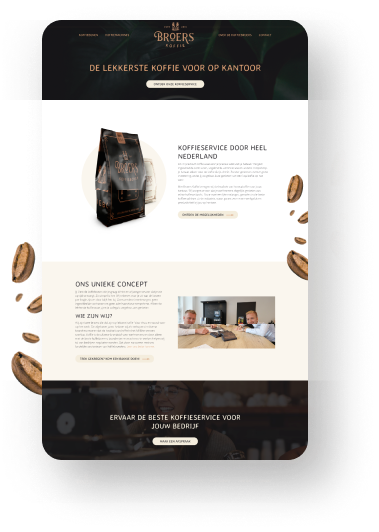 Project description
.
Broers Koffie is a coffee company started by two brothers and coffee lovers that offers premium coffee service throughout the Netherlands. Hoog Design has designed a completely new design for the customer, with a new modern and fresh look. Because of their busy schedule, they had to outsource the construction and I was assigned to take care of the technical realization within a short period of time and to convert the design into a custom WordPress website.
Development
.
The design has been accurately converted from Sketch to a completely custom theme with SVGs and icon fonts where possible for their crisp, clean look and fast loading speed. Modules have been built in for the product pages of the coffee and coffee machines with modular components, making it easy to set up landing pages using a custom builder in ACF which includes adding technical specifications, images, features, story blocks and call to actions.
Optimizations
.
During development, all script libraries are managed via Node.JS/NPM, so that the latest version can always be easily deployed (think of Bootstrap, Fontawesome etc.) and task runners are used with Gulp.js to compile all SASS and JavaScript to minified and combined scripts. In addition, the scripts ensure that images are lazyloaded and where possible scripts are loaded in the footer. This ensures that a minimum number of requests is maintained, which greatly benefits the speed. Since the website has been developed responsive and "mobile first", the site works optimally on every device and can also be viewed for every device and potential customer.

Fabian Krieger,
Owner of Hoogdesign web & app agency
We've been working together for a long time now, when our schedule is flooded again Brandon is our go-to guy! He always works accurately and delivers within deadline. To this day, we have always been able to rely on Brandon, a partnership that we will continue for years to come! Thanks Brandon!