Promote solutions in your unique brand style guide
.
product
E-mail design & Custom MailChimp template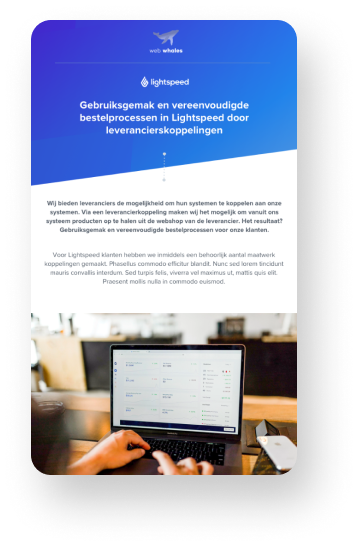 Project description
.
From their office in the heart of The Hague, Web Whales forms a team of specialists with a passion for technology. As a development agency, they work daily on the digital success of their partners. On this road they also want to inform their partners about their Lightspeed solutions and connections. They want to do that by informing them via MailChimp campaigns. They hadn't done much with email marketing before, so they had to build a custom email template that they could then use for multiple purposes. By request of Web Whales, I was assigned to design, develop and implement a complete email template from scratch into MailChimp. I had previously designed and developed the new website together with Web Whales, so I already had experience with the brand style guide.
With Sketch I designed several designs in the brand style of Web Whales with components that can be used for various campaigns. I then coordinated the design in Invision from client feedback with a few revisions. Thanks to the MJML framework, I was able to develop the templates via an established workflow, convert them to code and compile them to HTML / CSS code with good support for older email clients. The templates were then tested by testing them on the most popular clients and devices via Litmus and then divided into blocks and converted according to MailChimp guidelines. The MailChimp HTML tags are arranged in such a way that each individual block can be edited separately in MailChimp. This allows Web Whales with the visual editor of MailChimp, to flexibly organise the blocks and fill them with content and create unique campaigns.