Communicate the path to energy freedom
.
product
Custom WordPress website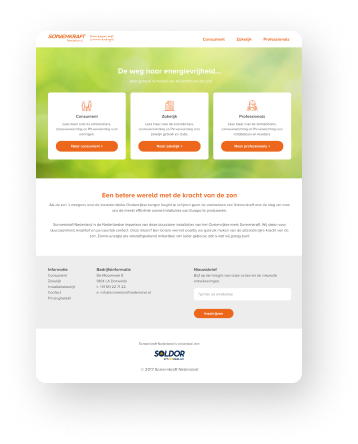 Project description
.
Sonnenkraft has been one of the leading developers of solar technology for hot water and heating for both private and commercial sector for more than twenty years.Inventief IT asked me to take care of the technical realisation of a brand new design, and to convert this into a custom WordPress theme with a focus on responsiveness and manageability.
The design has been accurately converted from Adobe Illustrator into a custom WordPress theme with SVGs and icon fonts where possible for their crisp, clean look and fast loading speed. 4 fixed templates have been built with which the customer can use to fill the website; the homepage, shop overview page, product page and content / landing page. Thanks to the customization, the management environment is extremely flexible and the products and landing pages can be easily configured. Since the website has been developed responsive and "mobile first", the site works optimally on every device and can also be viewed on every device for every potential customer.