Send out campaigns in a new refreshed look
.
product
Custom MailChimp template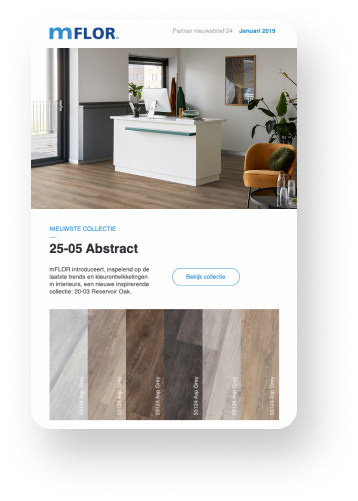 Project description
.
FLOR makes high-quality PVC floors with carefully considered detail, which influences the quality and appearance of the floor. Via MailChimp they regularly send out email campaigns to promote their products. They used to do this with the standard templates of MailChimp. To ensure their quality also reflected in their campaigns, some new designs were made for their various campaigns. At the request of Hoogdesign I was able to take care of the technical realisation and convert the designs into code, and then implement them in MailChimp as custom templates. The wish was that the templates for each device and email client are optimised and flexible to edit.
Thanks to the MJML framework, I was able to develop the templates via an established workflow, convert them to code and compile them to HTML / CSS code with good support for older email clients. The templates were then tested by testing them on the most popular clients and devices via Litmus and then divided into blocks and converted according to MailChimp guidelines. The HTML tags of MailChimp are arranged in such a way that each individual block can be edited separately in MailChimp. This allows MFLOR to use the MailChimp visual editor to flexibly organise the blocks and fill them with content and create unique campaigns.

Fabian Krieger,
Owner of Hoogdesign web & app agency
We've been working together for a long time now, when our schedule is flooded again Brandon is our go-to guy! He always works accurately and delivers within deadline. To this day, we have always been able to rely on Brandon, a partnership that we will continue for years to come! Thanks Brandon!