They have already found the best mediator for you
.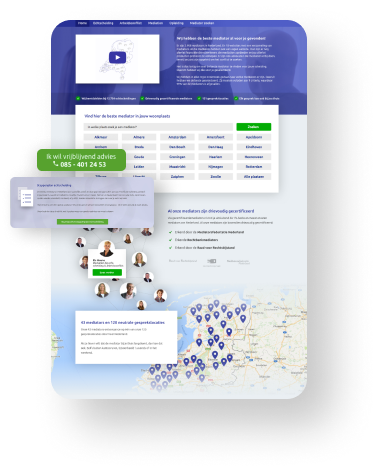 Project description
.
If you are looking for a mediator, you will soon discover that there are thousands of mediators in the Netherlands. How do you choose the best one? This is an impossible task for a layman. That is why Gecertificeerde Mediators have selected the best mediator in every city. During my time at Web Whales I was allowed to help build Gecertificeerde Mediators where I was responsible for a brand new design.
For Gecertificeerde Mediators, I was allowed to design a homepage design that served as the basis for a completely new modern look where the number of mediators and discussion locations had to be the center of attention. With Sketch I have delivered various designs in the brand style of Gecertificeerde Mediators with components that can be used for multiple templates and pages. We then fine-tuned the design and made some revisions.